A Really Funny Magic Show for Kids in Canada!
Kids of all ages will laugh out loud with comedy magician and television star Peter Mennie - the funniest family friendly entertainer of children around! His magic show – ABRAKIDABRA! is a unique blend of hilarious comedy magic & illusion, silly kid oriented vaudeville-like antics, trendy grown-up comic observations and entertainment skills that have been honed through twelve television specials, hundreds of talk show appearances and forty years on thousands of Resort, Cruise, Banquet, Fair, Festival, Special Event and Theatre stages across Ontario, Canada and the Caribbean.
"Excellent Family Entertainment. A Great Show!"

You might think that ABRAKIDABRA! is aimed only at children, however as a magician, Peter has a neat way of layering more sophisticated magic and humour into the show so that the parents in your audience don't get left behind because after all, that's what family entertainment is all about! As a matter of fact, Peter is so easy to work with and so completely focused on both the parent's and their children's overall entertainment experience, as well as your piece of mind over a job well done, it might look like a miracle, considering how funny he is onstage.
"The Largest Children's Show Audience We've Ever Had!"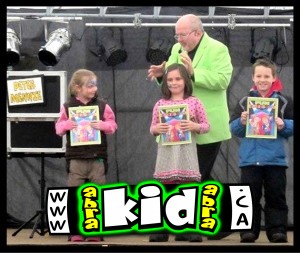 Plus, in order to ensure that everyone has a really unique and fun experience, the ABAKIDABRA! show travels nation-wide as a completely professional, self-contained performance. The show is not merely a collection of disconnected tricks, it is a finely crafted performance unit that will take your audience along a magical journey and have them laughing all the way!
"Our first ever sold out show!"
So, does this make Peter Mennie's ABRAKIDABRA! Magic Show a "comical magic show" or a "magical comedy show"? We'll let you decide but either way, your audience will be entertained and you won't be disappointed!