It's been a while since I've written here but I've been busy creating a few really cool brand new shows here at Magic Guy central.

AbraCANADAbra!
2017 is Canada's 150th Birthday Celebration and in keeping with that theme I've created my Official Sesquicentennial Magic Show - AbraCANADAbra! It's all about the culture, diversity, history and art that makes my home country great!
This show is perfect for Libraries, Festivals, Cultural Centres, Schools and Fairs.
BETTER THAN A MOVIE MAGIC SHOW!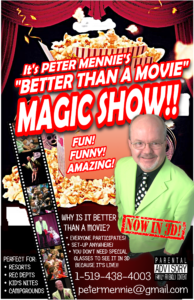 Any live show is better than a movie so and the Better Than A Movie Magic Show! is the best alternative to a movie any day (and the popcorn is cheaper).
It's a brand new collection of magic, comedy, visual puns and vaudeville-like antics fashioned after the nearly-world-famous AbraKIDabra! Magic Show.
This one I'd recommend for Fund Raisers, Appreciation Nights, School Fun Fairs and Movie Nights (of course!)
Naturally, the AbraKIDabra! show is still touring and I can even combine two or all three of them into a rotating package you can present throughout your event.
Just ask!
Peter Mennie
That Magic Guy